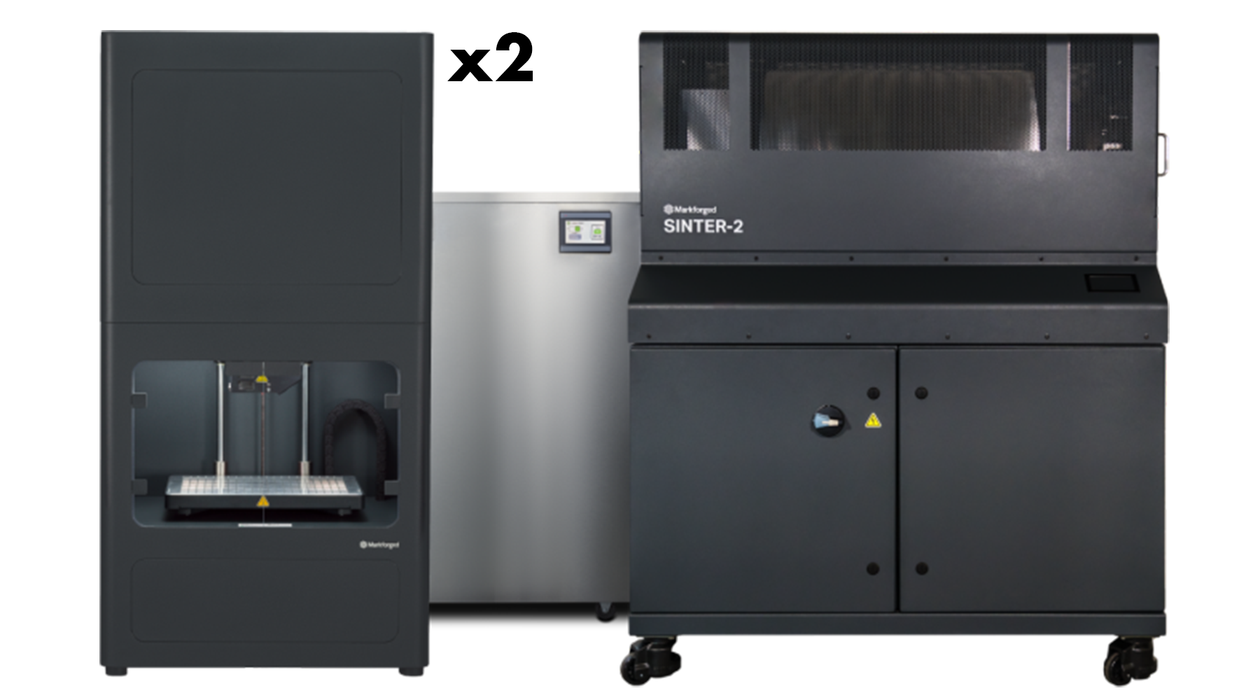 Markforged Metal X product bundle, 2 x Metal X, 1 x wash station, 1 x sintering furnace, 2:1:1 (Sinter 2)
The Metal X 3D printing system is a complete solution for manufacturing - everything you need to go from design to fully functional metal parts.
This product bundle includes 2 Markforged Metal X printers, 1 Wash-1 and 1 Sinter-2.
Markforged Metal X - Metal 3D Printer 
The Markforged Metal X is a new kind of metal 3D printer. By printing metal powder bound in a plastic matrix, Markforged has become the first company to eliminate the safety risks associated with traditional metal 3D printers. That means no loose powder, no lasers, and none of the traditional safety precautions. It's safe to use in a shop environment with minimal facility upgrades. In practice, the Metal X is essentially a very advanced FFF 3D printer. Featuring a precision machined gantry, a heated chamber and print bed, and advanced extrusion hardware, the Metal X is equipped to reliably print you durable parts.
Build volume: 250 mm x 220 mm x 200 mm
Layer height: 50 μm
Technology: ADAM,

 

Atomic Diffusion Additive Manufacturing 
Markforged Wash-1
In the washing station, Wash-1, the freshly printed, or "green" part is immersed in a special liquid that removes the primary binder material and makes the part semi-porous, allowing the remaining binder to burn off easily during sintering. This debinding step cleans the finished metal part and helps keep your sintering furnace clean.
Outer dimensions: 609 mm x 685 mm x 1067 mm
Wash volume: 18,356 cubic centimeters
Markforged Sinter-2
With a huge active heating zone (22,283 cubic centimeters), the Sinter-2 fits within the entire build volume of the Metal X. It is the perfect solution for larger parts or volume production. This workhorse sintered all commercial metals from their brown (washed) state into fully dense metal parts.
Dimensions of the furnace: 1778 mm x 1016 mm x 1270 mm
Volume of the furnace: 22,283 cubic centimeters
Peak temperature: 1300° C