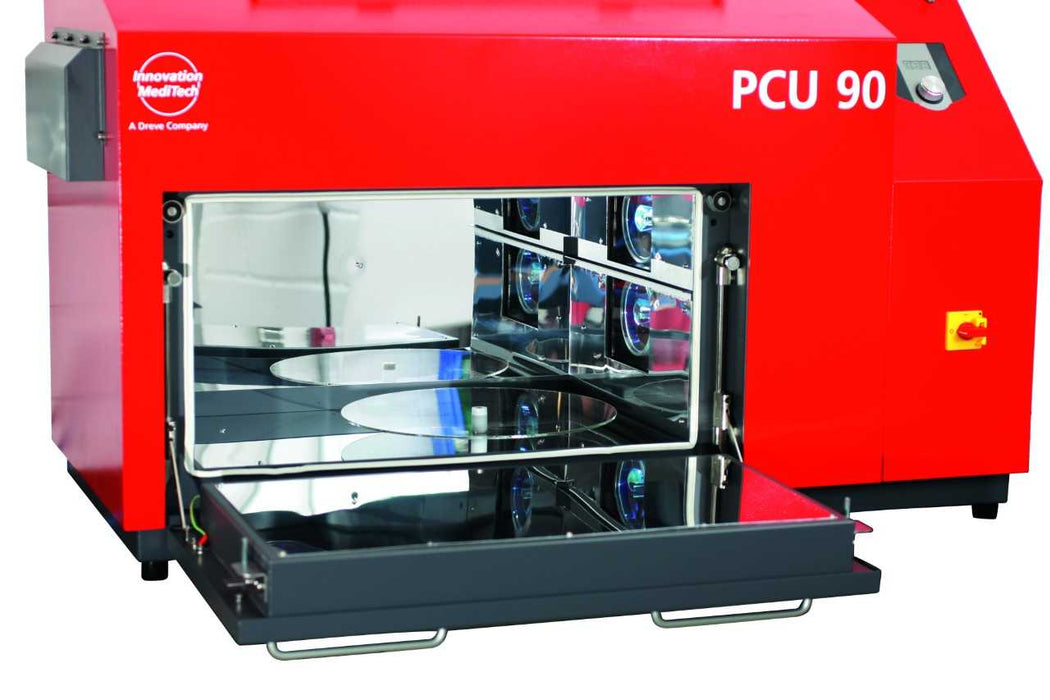 Dreve PCU 90 - Industrial 3D Printing Light Polymerisation
PCU 90 - Industrial 3D Printing Light Polymerisation unit by Dreve
The PCU 90 is an industrial light polymerisation unit for curing high quality parts made of light-curing resins and by means of SL – stereolithography / DLP - digital light processing / LCD - liquid crystal display processes.
Due to the metal halogen lights and the fine tuning of the wavelengths, the PCU 90 is an excellent option for the final curing of light curing resins.
To avoid dispersion layers on the surface of the printed components, the PCU 90 allows for the use of protective gas while curing. The very large polymerisation chamber offers the possibility to cure several large components at the same time. The operation of the unit is straightforward thanks to the PCU 90's intuitive menu. Only two parameters need to be set: the curing time, by means of a big operating button and the gas flow rate by a small setting button with locknut. The air current was adapted to requirements with guiding plates in order to optimise the cooling efficiency. A temperature sensor protects the unit and switches off the post curing process in case of an emergency when overheating.
PCU 90 + Features
High-performance metal halogen lights
Curing with nitrogen
Suitable for all common light-curing resins
Extremely large polymerisation chamber
Temperature sensor to protect against overheating
PCU 90 + Benefits
24/7 Usage - highest productivity through continuous production
Open system
Efficient operation
Time saving
Service centres in the US and Europe
Complies with DIN EN Iso standards
Certified quality: Made in Germany
Performance parameters 
H x W x D: 725 mm x 1185 mm x 612 mm
Polymerisation chamber: 360 mm x 610 mm x 410 mm
Weight: 140 kg
Mains voltage: 230 V / 50 Hz, 220 V / 60 Hz, CEE (Voltage / frequency)
Power consumption: 3500 W
Protection: 16 amps anti-surge
Maximum operating pressure: 5 bar (70 psi)
Gas connection: Plug and socket connection for 8 mm x 6 mm x 1 mm hose