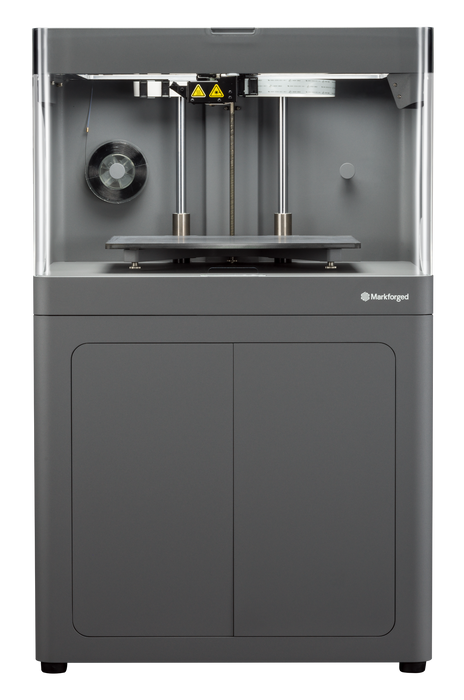 Markforged X7 (Gen 2) Industrial 3D Printer
or $1.800 / month
You have further questions? You can leave us a message here or in the chat box in the bottom right corner of this page. 
The Markforged X7 is a production powerhouse for parts with complex geometries that need to be sturdy. 
Excellent applications include production tools and end use parts such as: press brakes, robotic grippers, soft jaws, thermoset molds, welding fixtures, electronics enclosures and more. 
Extraordinarily strong, extremely stiff, ultra-light and incredibly versatile – parts printed on the Markforged X7 offer unmatched performance without compromise
Laser-assisted Construction Process Control
Build-as-Designed – Realize a huge variety of design concepts
Print components more cheaply
Hardware, software and materials – perfectly in harmony
State-of-the-art EIGER cloud software for slicing and adjusting build orientation
To guarantee that the printed part is well suited for it's production and usage environment the Markforged X7 prints in a variety of specialized materials: 
Markforged X7 Compatible Materials: 
You can also print with Markforged Smooth TPU 95A, which is a rubber-like material that gives you the ability to create flexible, shock absorbing parts (Thermoplastic Polyurethane). Another material of choice for prototyping and validation is Markforged Precise PLA - a cost effective way to make sure your design is on point. 
Carbon Fiber Strength
The X7 3D prints Continuous Fiber reinforced parts in hours that can be as strong as — and capable of replacing — machined aluminum.
Functional Parts of All Types
For a wide variety of functional requirements — flame resistance, chemical resistance, energy absorbance, high resolution, draft parts — the X7 has an industrial material or print mode capable of fabricating a functional part for you.
Industrial Reliability and Accuracy
Precision-machined hardware, advanced sensors, and unique software drive leading edge accuracy and reliability. Markforged industrial carbon fiber 3D printers offer micron-level laser scanning for closed-loop calibration, reliably yielding parts with high repeatability and near-perfect surface finish.
The Markforged X7 industrial 3D printer combines precision-built hardware, advanced sensors, and best-in-class software to deliver accurate parts repeatably.
It features a reinforced, precision-machined gantry and a precision ground print bed that can be removed and replaced with 10 μm repeatability.
Each piece of hardware in the filament extrusion system — from the nozzles to the extruder hobs — is optimized to resist wear from micro carbon fiber filled nylon filaments and maintain print quality over thousands of hours. "Out of material" sensors ensure that you're always printing while a scanning laser on the printhead enables the printer to dynamically adjust the first layers of a print to achieve perfect bed adhesion and inspect parts for accuracy after printing. People love the Markforged X7 because of its repeatability and reliability to produce strong parts. 
What's in the box? Delivery includes: 
1x X7 3D Printer Onyx
1x Dry box
1x Onyx FFF filament 800cm³ roll
1x Fiberglass CFF filament 50cm³ roll
1x Kevlar CFF filament 50cm³ roll
2x Carbon fiber 50cm³ rolls
1x HSHT fiberglass 50cm³ roll
3x FFF replacement nozzle
1x Tool set
1x Build Platform True Bed X-Series
Need more information? Download data sheet