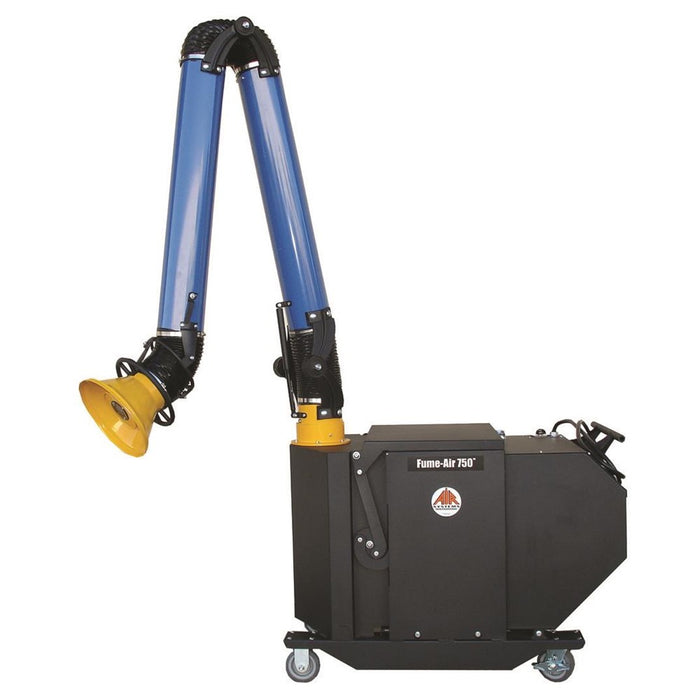 Air Systems International - Dust extractor
Fume-Air™ 750 Portable Fume Extractor w/10' Arm Assembly
Various options and models are available at varying costs. This unit is not intrinsically safe & does not qualify for free shipping from the manufacturer.

PLEASE NOTE: Not for extended high heat applications, ARC flash, Flash Fire, &/or major thermal/energy transfer events.


Steel Cabinet 115 VAC Motor, 12.5 Amps HEPA Filter, 99.97%, UL-586 Approved, DOP Tested, 1000 CFM Flow Rate 750 CFM Flow Rate w/10' Arm Assembly 13" Fume Capture Hood w/Adjustable Flow Damper 6" Diameter, 10' Adjustable Arm w/270° Movement Arm Shipped Assembled and Ready to Bolt to Main Extraction Cabinet Filter Change Indicator 24" x 24" x 1" Pre-Filter Pad and Holder Lift-Up Filter Door for Easy Access Filter Change 5" Heavy Duty Casters Size: 27" W x 40" D x 32.5" H Weight: 307 lbs.