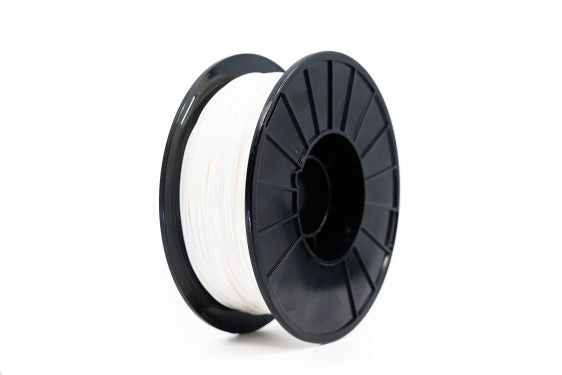 Markforged 800cc Nylon White Filament Spool
Nylon White is strong, rigid and reliable. The material has a smooth, non-abrasive surface and can be reinforced with any of Markforged's continuous fiber material options to create a composite material. The parts can easily be painted.
This material is used for parts that are handled manually (such as drill guides) or that come into contact with parts that would be easily damaged by contact with an abrasive material. It is also used for molds and a number of replacement parts, such as bicycle levers or tool handles. Markforged's Nylon White is a high quality material for prints of high strength functional components such as tools, jigs, templates, assembly tools, assembly aids, or production tools.
If you are currently printing Markforged's Onyx material, you can switch between Nylon White and Onyx without swapping print heads. Just print a purge line, which will take care of any residual material.
This is a 1.75 mm filament which can only be used on Markforged Desktop and Industrial 3D printers.

Nylon White is an engineering thermoplastic that is non-abrasive and can be reinforced with any of Markforged's continuous fibers to form a composite material. It is a versatile material, both with and without reinforcing fibers.