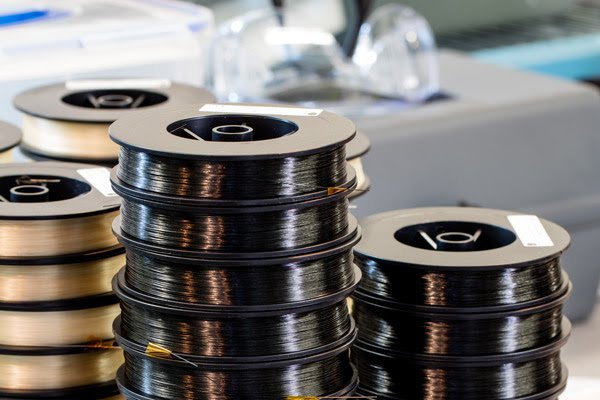 Markforged Onyx and Carbon Fiber Spool Pack (10 Spools Onyx, 5 Spools Carbon Fiber)
15 spools in total, consisting of 10 Markforged Onyx 800cc spools and 5 Markforged Carbon Fiber 150cc spools.
By ordering this pack, you'll pay $3,920.00 instead of $4,150.00 for the materials. 
Are you 3D printing a lot? Let's talk about a stocking agreement. We can hold inventory for you and deliver on demand. You can either send us a note through this contact form or use the chat bot in the bottom right corner.
Markforged Onyx is a micro carbon fiber-filled nylon that's 1.4 times stronger and stiffer than ABS and can be reinforced with any continuous fiber. Onyx sets the bar for surface finish, chemical resistivity, and heat tolerance.
Markforged Carbon Fiber has the highest strength-to-weight ratio of our reinforcing fibers. Six times stronger and eighteen times stiffer than Onyx, Carbon Fiber reinforcement is commonly used for parts that replace machined aluminum.

*Note: You need to have a 3-Year Markforged Digital Forge subscription for this offer to apply.