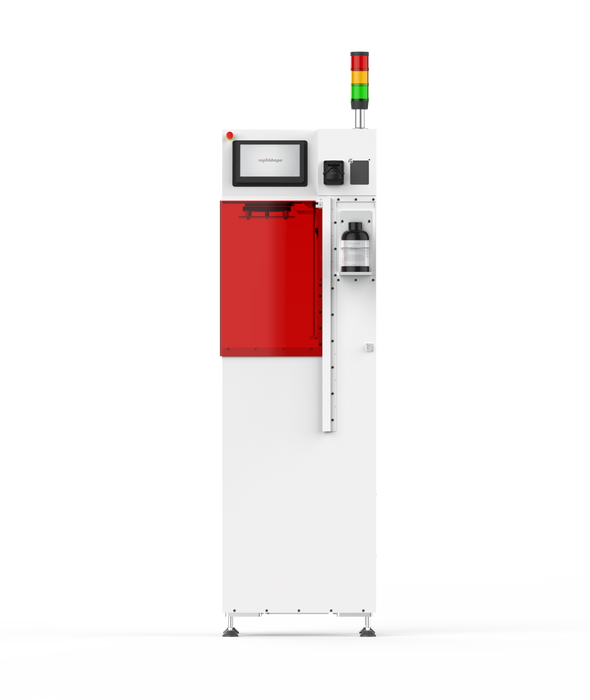 Rapid Shape i100+ Industrial 3D Resin Printer
or $3,700 /month
Efficient, automated, reliable - professional workflow, maximum speed and consistent quality.
The i100+ has the largest print area of any Rapid Shape printer we offer. It combines long-lasting, repeatable quality with the highest precision. This machine is the perfect 24/7 production unit - think thousands of parts per day. It features an industrial projection system and internal cooling for all system components. The i100+ is the solution for high-capacity 3D labs or production facilities, including multi-shift operations, or simply where build space and therefore part size is critical.

Rapid Shape's i100+ is a high-performance, fully automated DLP 3D printer designed for high-volume production. It features an open system for flexible material compatibility, an automatic resin replenishment system for continuous production, and high safety standards for a healthy printing environment. The i100+ achieves a print resolution of 44 nm, optimal for capturing fine details and printing with extremely high accuracy. This makes the i100+ the ultimate machine for industrial applications that require the highest precision and continuous production that have become standard in the medical field.
Your i100+

 

Benefits
24/7 usage - Increased productivity due to continuous printing

Open system 

Material and time saving, also more environmentally friendly
Rapid solutions
Performance parameters 
Build area
338 x 190 mm
Native pixel

+/- 44 nm 

Max part height
400 mm
Light source
385 nm ultra high power UV LED
Resolution
4K 3840 x 2160 px

Dimensions

(W x H x D)

22.63 in x 85.3 in x 19.52 in

575 mm x 2160 mm x 498 mm

Ports
TCP/IP, USB
Control
10'' Touchscreen