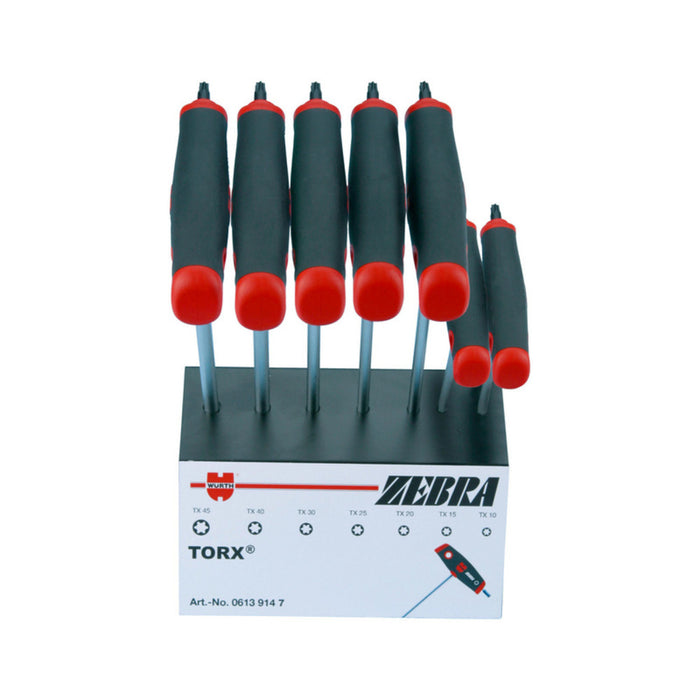 Würth ZEBRA T-Handle, TX Socket Set (7 Pieces)
ZEBRA T-Handle, TX Socket Set (7 Pieces)
Article number: 6139147 
This is used to work on hard-to-reach nuts and bolts on your 3D printer. 
ZEBRA T-Handle, Torx Socket Set - In Sheet Steel Rack - 7 Pieces - TX 10; TX 15; TX 20; TX 25; TX 30; TX 40; TX 45
In sheet steel rack
Integrated side output
Effortless tightening and loosening of screw connections
Particularly suitable for rusted and seized screw connections
Multi-component handle comprising solid core and soft casing
Ergonomically adapted handle for a comfortable grip and effortless work
Integrated drilled hole for storage on tool rack
Black Point Tip
Higher torque and a precise fit.
One-piece blade Resistant even to extremely high stresses.
Contents: 7 pieces
1 each of T-handle screwdriver TX 10; TX 15; TX 20; TX 25; TX 30; TX 40; TX 45
| | |
| --- | --- |
| Tip Size | Shaft Length (mm) |
| TX 10 | 100 mm |
| TX 15 | 100 mm |
| TX 20 | 200 mm |
| TX 25 | 200 mm |
| TX 30 | 200 mm |
| TX 40 | 200 mm |
| TX 45 | 200 mm |