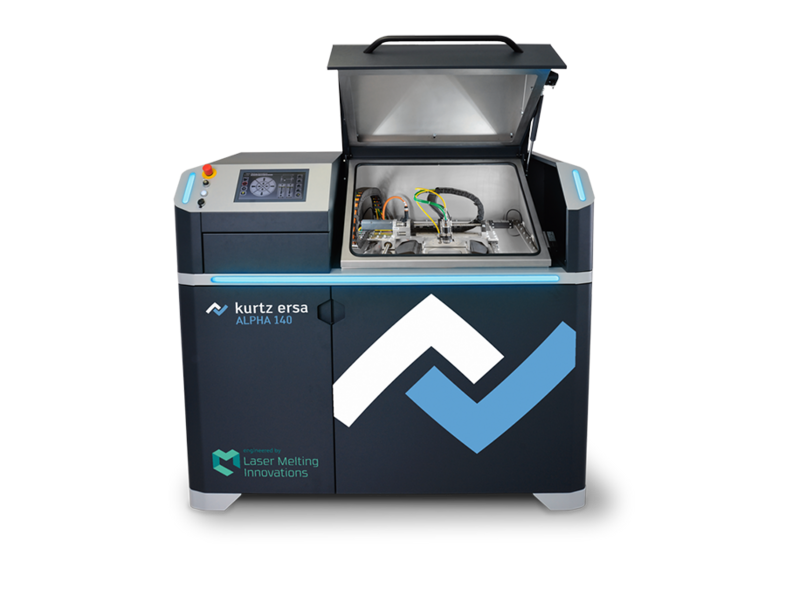 Kurtz Ersa Alpha 140 - Vertical Laser, Powder Bed Fusion Metal 3D Printing
Kurtz Ersa Alpha 140 - plug'n produce with an excellent price-performance ratio. The fascinating entry into metallic 3D printing. 

The Alpha 140 combines innovative Additive Manufacturing technology with particularly simple operation at low system costs. Thus, the Alpha 140 offers an optimal solution for the tool-free production of metal parts, especially for small and medium-sized companies. Complex structures with the greatest geometric freedom can be mapped quickly and cost-effectively. Thanks to the open system, the customer can set the process parameters in the slicer according to individual requirements. A wide range of usable metal materials is thus available through the free variation of process parameters.

Perfect match - LMI and Kurtz Ersa
The cooperation between Laser Melting Innovations GmbH & Co. KG (LMI), based in Aachen, and Kurtz Ersa is taking metallic 3D laser printing further. Together, they offer a cost-effective entry point for companies small and large who benefit from the highest quality, excellent reliability and very fast availability. At the same time, the Alpha 140 remains adaptable and can be tailored to customer needs.


Advantages of the Alpha 140

Precise performance - The fiber-coupled diode laser with up to 200 W power processes stainless steel and alloys with ease. Due to the focus diameter of 110 µm, even the finest details and thin wall thicknesses can be precisely produced.

Compact design - The machine's small footprint of 1.675 x 0.92 m saves space without sacrificing performance. The spindle-driven axis system with an installation space of 140 and 200 mm height enables high positioning and repeat accuracy of the laser system.

Diverse materials - Usable materials include stainless steels, tool steels, and nickel-based alloys (e.g. IN625 and IN718). The components produced on the Alpha 140 achieve strengths comparable to conventional LPBF machines and have a component density of up to 99.9%.

Optimal process conditions - A laminar shielding gas flow creates optimum conditions for the inert welding process while keeping the laser optics protected.

User-friendly software - The LMI SliceAM software, specially developed by LMI, offers intuitive data preparation through preset parameter sets. The integration capability of Autodesk Fusion 360 and Autodesk Netfabb completes the workflow of the software. 
Specifications
Build volume
Ød = 140 mm x 200 mm
Shield gas input (Argon)
6 bar
Shield gas consumption
(Argon)
flooding: 40l/min
process: 6 l/m
job Ø: 10 l/min
Layer height
30-90 μm
Laser and Optic
Laser

fibre laser 200 W / aircooled

Wavelength

1070

nm
Focus diameter
140 

μm

Electronics
Electrical input

380-480 V 50/60 Hz, max. 16 A Pmax = 4 kW, three phase

IP protection class
IP54
Environment
temperature
15-35 °C / 59-95 °F
Air humidity
max. 70%
Materials
Metals
stainless steels 1.4404

nickel-based alloys
(IN625 or IN7188)

aluminum alloys

tool steel alloys 1.2709

others on request
Part density
up to 99.9%
Geometric accurary
up to 100 micron
Dimensions
Dimensions
(L x W x H)
1675 x 920 x 1508 mm
66 x 36.22 x 59.37 in
Weight
about 500 kg (1.100 lbs)
Software
LMI Slice AM