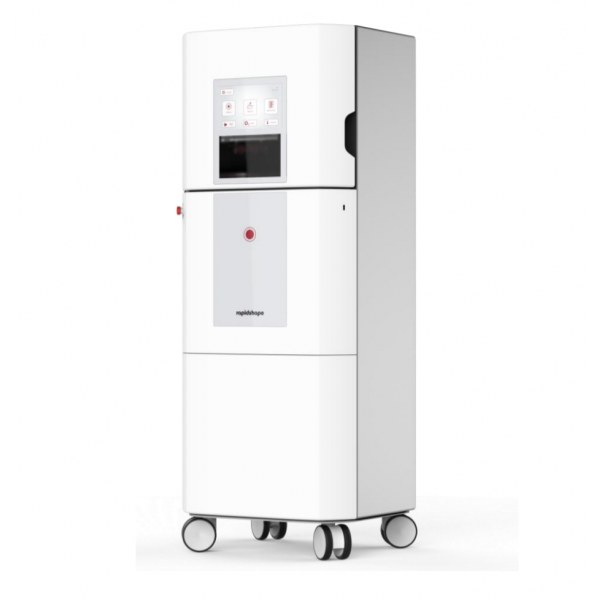 Rapid Shape i50+ Industrial 3D Resin Printer
or $1,400 /month
Rapid Shape brings you the latest development in 3D Printing
With Rapid Shape's latest 3D development "I50+" you can enjoy efficient and optimized workflows with no idle time.
The professional 3D Printer I50+ 
As an innovative leader Rapid Shape specialize in the development and manufacture of high-end systems for additive manufacturing. Out partner set standards for high precision, speed, and reliability with proprietary technologies. This is also the case with the i50+ industrial 3D printer. This workhorse creates up to 11 models in one print run, ensuring optimal workflows in professional applications. As an absolute all-round talent, the I50+ is suitable for all conceivable indications, with high 4K precision.
Your i50+ Benefits
High safety standards and security
Better print quality (4K Projector)
Material and time saving, also more environmentally friendly
Increased productivity due to continuous printing
Rapid solutions
Performance parameters 
Build area
231 x 130 mm (9.09 in x 5.12)
Native pixel

+/- 30 nm 

Max part height
300 mm (with ASM 100 mm)
Light source
385 nm LED
Temperature

Regulated up to 35° C, optional even

up to 60° C (equal to 95° F / 140° F)

Resolution
4K 3840 x 2160 px
Dimensions
(W x H x D)
23.62 in x 65.35 in x 22.44 in
(600 mm x 1660 mm x 570 mm)
Connections
WLAN, Ethernet, USB
Control
10'' LCD-Display, Touchscreen
Your added Value with the I50+ 3D Printer
Productivity
The new 3D Printer is equipped with a big build platform, larger print volume and many new automated features that allow you to print parts in much greater numbers.
Validated processes
The i50+ ensures validated and efficient workflows.
Speed
Your Rapid Shape workhorse features patented Force Feedback technology for faster print speeds.
Usability
Several new features ensure ease of use and facilitate workflows for your business.
Automation
The patented Automatic Separation Module includes automatic refilling and resin-level control. This makes continuous, self-running printing possible.
Easy and simple
Our service team will ease you into using our systems for full proficiency.
Rapid Shape Technology at the highest Level
Automatic Separation Module (ASM)
The automatic separation module is a patented technology which automatically separates the printed parts from the build platform after the printing process. If you ever did so manually, you'll appreciate this a lot. 
Automatic Resin refill
This technique involves the automatic refilling of material and control of the resin-level.
Radio-Frequency-Identification (RFID)
The RFID is a material identifier. Just hold it up to the printer and the printer immediately recognizes that the correct resin is being used.
Force Feedback Technology
This technical development is also patented by Rapid Shape and is used to measure the forces required to perform the printing process optimally, which enables high-speed printing.
Rapid Shape 3D Printers for Industrial applications - download the brochure