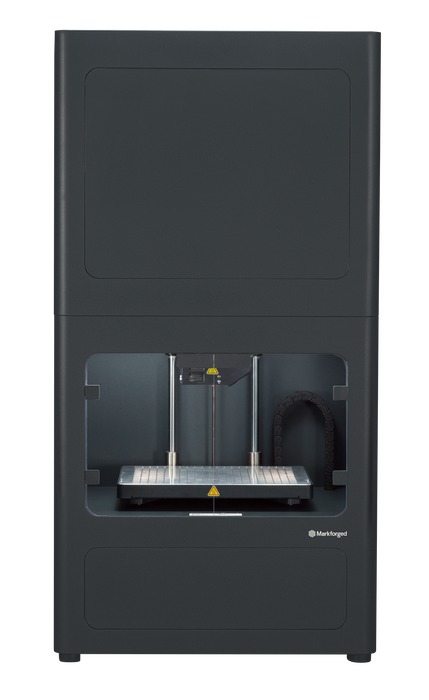 Markforged Metal X 3D Printer: Complete Solution for Metal 3D Printing
Introducing the Markforged Metal X 3D Printer - the future of metal 3D printing is here. With cutting-edge ADAM (Atomic Diffusion Additive Manufacturing) technology, the Metal X is a standalone metal 3D printer that brings high-quality metal printing to a whole new level. For the ultimate metal 3D printing experience, the Markforged Metal X requires the use of the Markforged Wash and a Sintering Furnace, for example the
Sinter-1
. We offer a comprehensive
product bundle
, which includes all three essential components, providing you with a complete solution for your metal printing needs.
The Markforged Metal X 3D printer uses innovative technology to print metal parts with incredible precision and strength. Employing a unique metal filament made of highly concentrated metal powder bound in plastic and wax, the printer creates parts layer by layer using the reliable FFF (Fused Filament Fabrication) process. After printing, the Markforged Wash removes the wax content from the parts, and the Sintering Furnace completes the atomic diffusion process, resulting in homogeneous metal components with a density of up to 99.7%.
This advanced metal 3D printer offers a large build volume of 300 x 220 x 180 mm, making it perfect for automotive, aerospace, and various other industries. It allows for the rapid and cost-effective production of main components, individual parts, or replacement parts with unparalleled precision. With the Metal X, you can print overnight and have your metal parts ready for use the very next day.
The state-of-the-art Eiger cloud software ensures seamless integration of hardware, software, and materials for an efficient and user-friendly experience. The Metal X also boasts a laser-assisted process control system that scans your part during printing, ensuring that it meets all requirements for quality and precision.
In summary, the Markforged Metal X is a fantastic solution for metal 3D printing, offering impressive speed, quality, and ease of use. Paired with the Markforged Wash and Sintering Furnace, the Metal X provides a comprehensive and reliable system for metal 3D printing. Don't miss out on our product bundle, which includes all three essential components, for a complete and hassle-free metal 3D printing experience.
Order your Markforged Metal X 3D Printer, Wash, and Sintering Furnace bundle today and revolutionize your metal 3D printing capabilities.